How to Write Reader-friendly Content for Better Customer Retention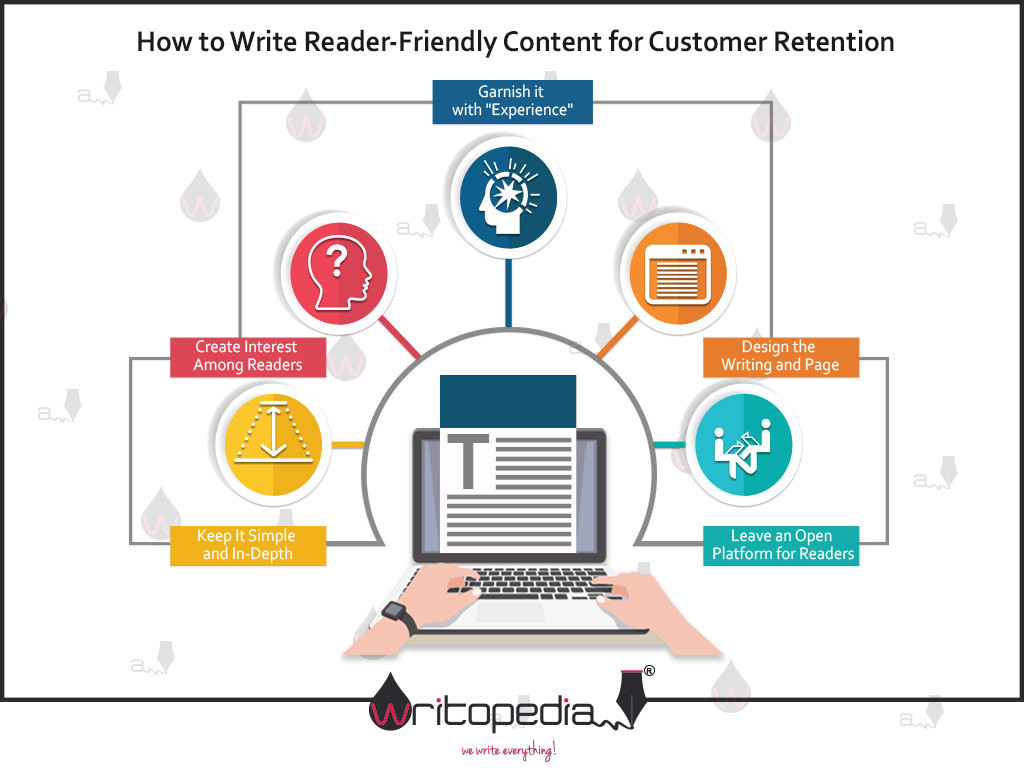 A reading experience can become a memorable one when the written article or blog is interactive, infused with emotions and laden with expressions that a reader can relate to. No matter what the genre is – academic, educative, as a business promotion tool or a web content page – if the writing is interactive, easy to connect to and generates interest among the target audience, it can prove to be good reference material and can catch readers' attention in the long run, besides garnering good traffic for any type of digital domain.
Here's how you can write reader-friendly content for better customer retention:
Keep it Simple, but In-depth
Irrespective of the genre of your topic – keep it simple in words and in-depth in terms of content. Use language that is easy to grasp when it comes to readers. For instance, a layman, without any technical knowledge about the subject should be able to learn from the blog. Bombarding the readers with technical jargons may only leave them clueless. Also, it is important to include all the information a reader is looking for, to allow them to gain expertise in that particular topic. Providing relevant information in a way that there is no need to dissect it further will score you brownie points. BuzzSumo's analysis of 100 million articles depicts that in-depth articles get the most shares on the social media. However, it is also important to ensure that the information provided is crisp and to-the-point. Unnecessary stretching of an idea/topic can lead to loss of interest among the readers, eventually diverting the traffic to other web pages.
Create Interest among Readers
Not all topics under the sun are interesting and enchanting enough – most of the topics in the academic sphere may be dull and drab. Writing about the topic in the same, mundane way that everyone else does, will only leave both, the writer and the reader frustrated. Hence, the onus of turning a dull topic into an interesting one lies on the writer. Introduce the topic and create curiosity in a way that people would want to read it further.
For instance:
A local hotel food menu reads: Khichdi
A five-star resort's food menu reads: A combination of nutritious lentils and organic rice simmered together with vegetables and aromatic spices to make a wholesome meal, garnished with fresh coriander and a dollop of butter, served piping hot with a blob of pickle and curd.
The former description appears to be as bland and boring as the food item they serve, while the description of the latter is enough to tantalise one's taste-buds and stimulate one's imagination, creating interest in the food item.
Dissection is Necessary, Not only Conceptually Though
Break a lengthy topic into various sections to enable easy understanding. Make an outline of the topic and provide a defined structure before you begin writing. This will help you to get clarity on the topic apart from aiding you in deciding on the various headings and sub-headings that a topic may require. If possible, use bullets and numbered lists – these can help in processing information in a better manner compared to word-crunched, lengthy paragraphs. According to Neil Patel, short sentences boost the content readability by 58%.
Like they say, seeing is believing, giving your readers a visual experience through photos, graphics or videos can stay in their memory for a longer period of time. Explain each sub-head with relevant information and graphics, if need be. This way, you will be able to make the blog more interactive and interesting for the readers. Any big task, when broken into small parts by giving sub-heads and examples leads to better receptivity. For instance, IT managers handle large projects by partitioning them into smaller components. This way they conquer bigger tasks and make them more doable and convenient.
Garnish it with 'Experience'
Writing about an experience as a writer or a blogger validates a product or a service, and adds value from the user's perspective. Read a travel blog, food blog or fashion blog, and you will find extensive passages about the experience of the blogger – the services he/she opted for or the products used, the main features that caught their eyes, and eventually the conclusion. In a way, these experiential pieces provide a virtual peek into the services or products you may want to take up or use. In some cases, sharing first-hand experiences can also mean interacting with the readers and establishing a direct connection with them.
Design the Writing Page
The design and decorum of your blog has the ability to attract readers to the digital space that you call home. After all, it not only provides identity to your blog/website, but is responsible for generating traffic for it. Sometimes, the content may be simple and easy to understand, but the fonts and its size, if used without proper research, can act as a hurdle.
For instance, the font type Times New Roman and Arial are considered to be the most readable. However, according to the findings presented by Daniel Oppenheimer, people recall what they have read well when it's printed in smaller, less legible font type.
So basically, deciding on the font type and style depends a lot on the target audience.
For instance, if your blog provides information about the health of elderly people, and the target audience too is the same, opting for small, less legible font type cannot be welcomed by the readers, eventually leading to loss of readership.
Hence, it becomes highly crucial to create a signature style – easy-to-understand fonts and easy-to-apply format for your blog, which is easily receptive by the readers. At the same time, if you want to make a powerful impression on your readers, experimenting with less legible fonts once in a while can also be a highly lucrative idea.
Leave a Chance for the Readers to Express Themselves
Lastly, it is always good to create a platform for readers wherein they can leave their feedback and comments about the article, or interact with the bloggers. This will give an idea to the writer about how receptive the article is, and if it caters to the curiosity of the target audience.
For instance, a lot of websites these days provide live chat sessions with the blogger or the website representative. They reply to the queries of the readers in case they have any doubts. Quickly resolving the readers' doubts definitely counts as an achievement.
Also, creating a readers' forum or initiating discussion threads by/for the readers can lead to brainstorming of various kinds, eventually giving a different perspective to the topic. However, it is important to keep a watch on these discussions as at times, it may turn out to be messy and require immediate clean-up to save the blog from creating negative publicity.
Focusing on "Reader Experience" rather than "User Experience"
For a moment, let's forget everything about the rules and norms of SEO that bloggers and websites are "supposed" to follow. Let's shift the focus to something that is closer to both our minds and our hearts – experience of course! The word "user experience" has been thrown around in recent years, but what about reader experience? Have you ever thought about developing sentences, phrases and entire paragraphs in the form of a holistic experience, rather than using website colour themes, panel dimensions, call to action buttons and other elements to define how a user experiences your content? This is where the content creator needs to understand the essence of how a reader is impacted by sentence structure, and not merely website structure and aesthetics.
Man is a social animal, and tries hard to socialise. Let not the content be mere reading material – structure and format the writing style to be more communicative and interactive so that the reader can reap the satisfaction of having had a one-on-one conversation with someone. Let the experience of reading the blog be more realistic; let it delve deeper into the emotions and touch those untapped realms within the reader's mind. This way a blog can be more of a reading experience than just being a tool used to gorge on information, technically and mechanically. Reading the blog, comprehending it, visualising it through images/graphics and feeling it through a relevant language will give the reader a holistic experience, and he/she will be able to retain it in his/her memory for a very long, long time.