What is SEO Content Writing?
Nowadays, Search Engine Optimization is futile without good content. The content that you produce for SEO needs to be unique, well planned, relevant, informative and organised.
With so much of data flowing in, Search Engines are becoming smarter by the day. They are able to provide more accurate and personalised results to the users while also benefitting the companies or corporations who are catering to specific needs with a well-planned content strategy.
Your SEO campaign would totally fail if there is no integrated content creation and marketing strategy linked with it.
Now that we have established the importance of content for SEO, we shall understand other aspects and elements that concern what we call, "SEO Content".
What other aspects do we offer for SEO Content?
Apart from generating quality content,  we at Writopedia focus on and have set processes for other content related aspects of SEO. This includes a four-step research approach before and after the content creation, viz.
SEO Content Research Report: Thorough research for each web page/blog article is carried out and planned before we begin to write the content. This research is used to create a framework including focus keyword, secondary keywords, anchor text (backlinks), geo-targeting, page title and navigation path.
Content Logic: Additional framework includes a web page content logic document that is used in order to maintain consistency across all of our web pages.
Integrated Content Marketing Toolkit: Each article additionally comes with a content marketing toolkit that includes Meta tags (Meta description), Heading Tags (H1, H2, ), High-Quality Images, Image file names, Image alt attributes and Slugline for URL. This helps us focus not only on Web Search results but also Image Search results.
Quality Tests: In the end, each article is checked for aspects like plagiarism, grammar, structure, context, and ease-to-read. Our state-of-the-art tools also check for consistency, average sentence length, the flow of ideas, and other intricately important but generally avoided aspects like minimum usage of passive voice, maximum usage of transition words, etc.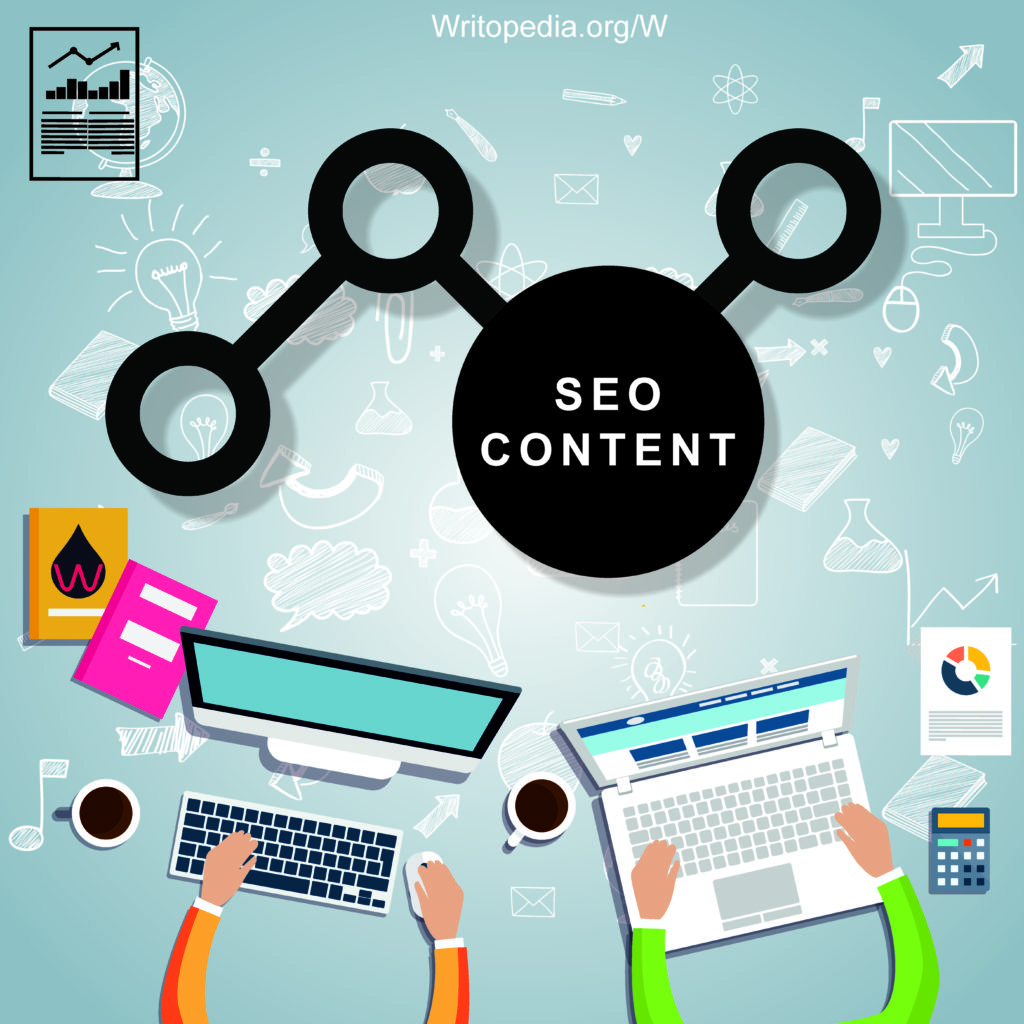 Fact File: According to Hubspot, most of your potential customers will get to know about you for the first time through Search Engine. This just elucidates the importance of SEO content and SEO content writing companies.
Case File:
Our team designs customised strategies for each client based on the business and target audience. While we recommend quality content for each web page and also an informational blog to all the clients, for some clients we also recommend third-party blog submissions in order to generate good backlinks and improve their presence in already renowned blogs with good reader base. With quality SEO articles on credible third-party websites, we help our clients increase their presence and generate more organic leads. One such example is of our client, Cygnet Infotech. Cygnet is already a very well-placed IT giant in India and their division of Cygneto-Apps primarily provides custom software solutions for field sales and mobile ordering to multiple clients. In order to promote their field sales solutions, we came up with a double integration solution in terms of SEO content writing – one for their own blog and one for third-party blogs. In their own blog, we aimed at spreading awareness and information to interested people – each article focusing on one aspect of the field sales software. We came up with articles that explain the importance of a field sales management app and how field sales apps can be a game changer for industries like the F&B. For the third-party blog, we came up with more solution-oriented articles that would be relevant to a wider audience looking for enhancing their sales strategies. We offered one such generic sales solution by writing on how you can turn the most common sales objections in your favour.
More business writing solutions from Writopedia:
While you plan for SEO Writing, you might also want to check out our other services under Business Writing domain like creating Social Media posts and PPC Ad Writing.
Each article that we produce for you will take your business a little further and make your search engine ranking better. Send us an inquiry using the tab below and allow us to create a curated content experience for your target audience.
What People Say About Us
I never knew emails and brochure content could be created with such artistic charm! Writopedia has never left me unsatisfied with their service and have heeded my call whenever I needed help with any kind of content.

The ability to explain technical concepts that even the most hardened IT professionals find difficult, in simple, layman terms is something that cannot be taken for granted. Writopedia is a group of professionals who know what they are doing.