About Writopedia:
Initiated with one of its kind concept, Writopedia provides unique writing solutions to enhance lives & businesses.
Already functioning in over 12 countries, Writopedia boasts of one of the largest writing networks worldwide.
Solely run by writers from all different arena, it has shaped up as an industry lately for "Writing Process Outsourcing".
In its journey of 4 years, Writopedia has successfully accomplished about 15,200 successful writing projects for corporates, start-ups, web blogs, web forums, movies, professors, institutes, creative artists, etc.

Our Dream
To streamline communications and make the world a better place through 'writing'

Our Commitment :
Towards creating a whole new realm for writers as artists and writing as an art form benefitting individuals and corporations.
To become an industry where anyone who seeks writing solutions can get connected with the best suitable writer and anyone who writes can easily earn.

Our Consciousness :

Our Belief :

Our Purpose of Existence :
To pursue writing as the highest form of ART.
To improve inter-personal relationships by writing
To improve the productivity of businesses by writing
To improve the output in any creation/innovation/art by writing

Our Purpose of Existence :
org (Write for Others)
org (Write for Yourself)

No Compromise on Quality :
Given its wide network of writers from different domains, Writopedia always has the perfect writer that suits your need. All the writers undergo rigorous training modules before they become eligible to start writing professionally.Our multiple offices are set up as writing factories. These factories act as totally equipped project manufacturing centres. All writing projects undergo pre-defined vigorous processes and quality checks before they are made ready for the end-consumers.Based on your requirements, various quality checks are conducted for each article written by our writers. For example, if it is an SEO article, it will go checks like


1.      SEO Optimization Check:

Here we check the article for SEO related aspects like keywords, meta tags, heading tags, high quality images, image filenames, image alt attributes, geo targeting, anchor texts, page titles, linkbacks, URL slug lines, navigation path, etc.

2.      Plagiarism check

We guarantee unique, exclusive, organized and comprehensive content. Each document is thoroughly for any kind of plagiarism at all and a plagiarism report is submitted for your assurance.

3.       ETS check

Similarly, we also check all the documents for ETS score and submit an ETS report as well along with the document guaranteeing grammatical accuracy.

4.        Grammar check

The documents undergo a 'Grammarly' software test for Grammar & Sentence Construction before it is submitted to you.

5.       Structural and Syntax check

One of the top 10 writers of Writopedia would run a check for the structure and syntax of the project/document.

6.      Ease-to-read test

Each article we write undergoes an ease-to-read test which ensures the aspects like readability and understandability. Under this, we also check for aspects like the usage of passive voice, transition words and average sentence length in the articles.

7.        Vocabulary check

Especially for creative & corporate projects which require creative or specific words, we also make it a compulsion to run a Vocabulary check on them by our Vocabulary experts.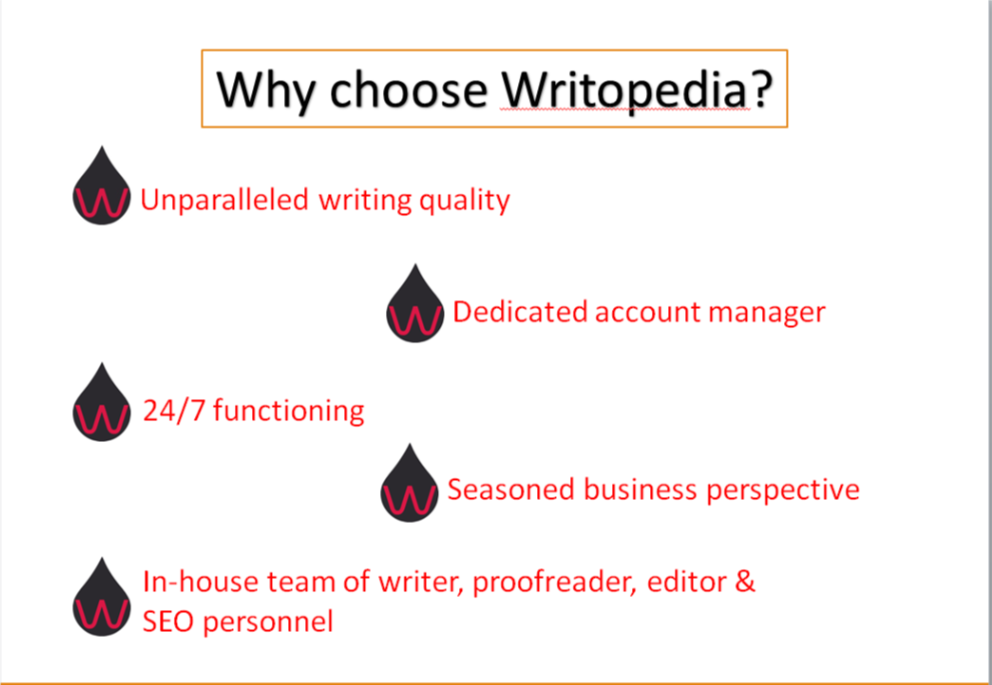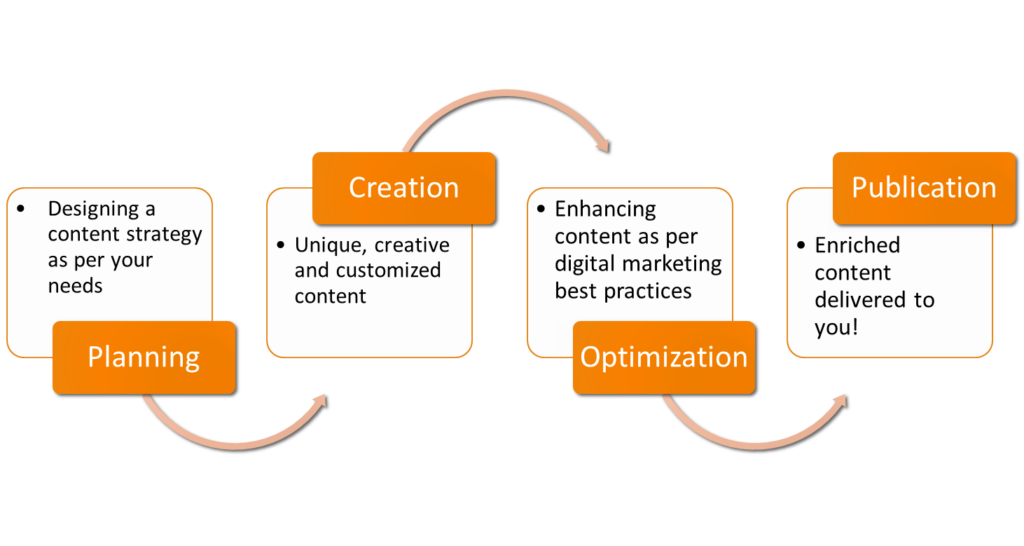 Writopedia Writer's Pledge:
Writing is my religion and passion. I pledge to write for lifetime and make people's lives and businesses better thereby. I believe that 'Writing' can change the world and it brings along the feelings of inclusiveness & oneness among people.
I further pledge to support the worldwide writing community in whatever ways I can. I shall encourage & help create free learning & competing opportunities for budding writers so that they can be groomed to be better writers in life.
I firmly propagate writing as an art that should be learnt & practiced by everyone. Hardly do we see good writers in a negative trip of life. Better writers would contribute for a better world.
I dream that writing be recognized as a pure art form for changing lives. As a Writopedian, I also share the dream of making it very easy for a good writer to earn good.
Lastly, I believe in Writopedia. I believe that 'Everything is Writable'. And I firmly believe that I WRITE, THEREFORE I AM!
Cheers!
Miscellaneous Services from Writopedia :
A full time account manager specially working for your company.
As we operate in different time-zones, it allows us to provide 24*7 services.
For every client, we rope in a team of the best writer, proofreader & editor and each article passes through 3 different stages.
You pay only for the work you like and use.
Once the content is submitted, we take care of unlimited modifications and revisions on an immediate basis as per your requirements.
Promotion of your website/blogs/campaigns on Writopedia website & social media. Linkbacks and Anchor Texts on the blogs and websites that we manage for our various clients.