All you need to know about Keyword integration in your content for SEO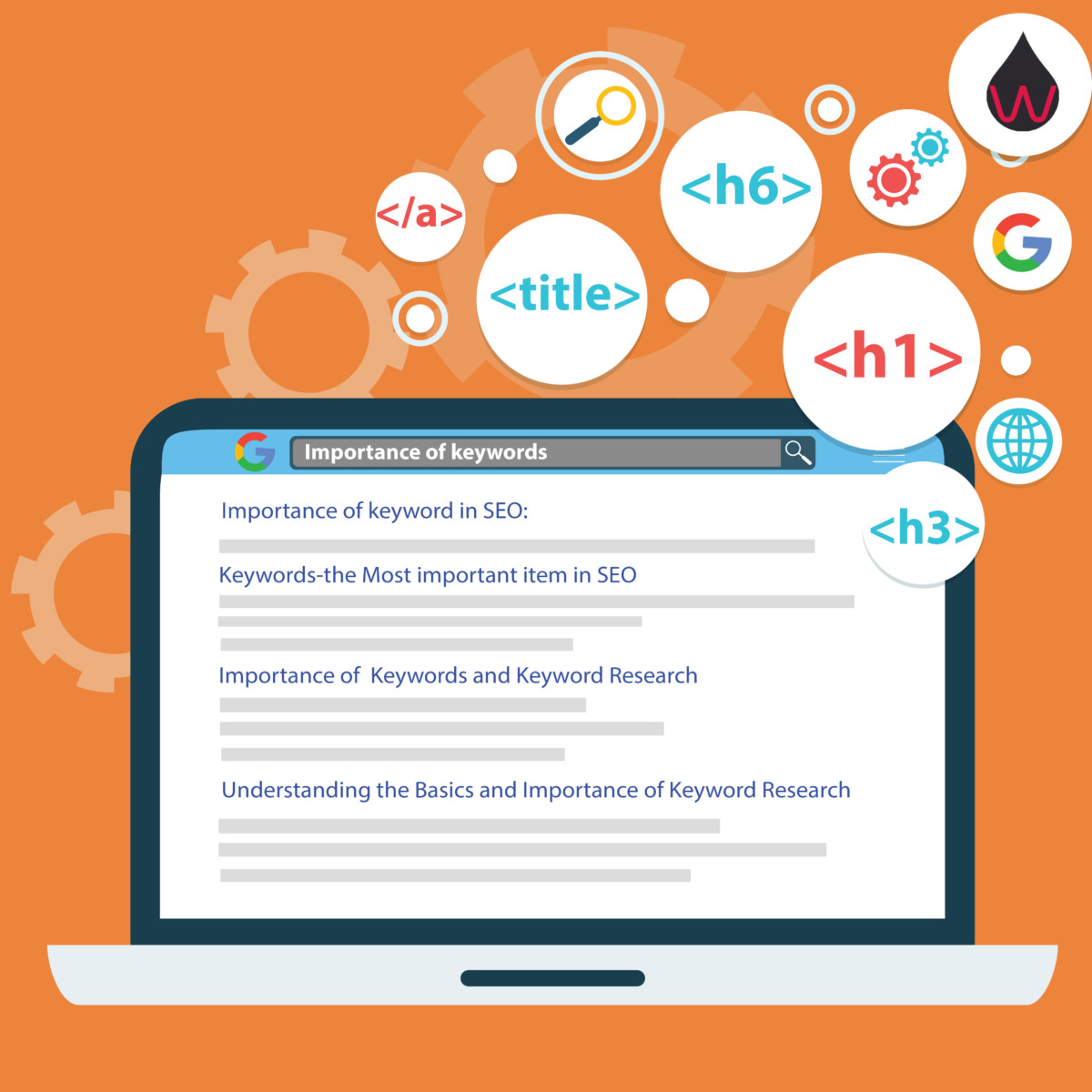 Importance of Keywords in the world of content creation
Keywords define the social distribution of your article to a large extent. Without proper keywords planning and usage, even your best article will have its two day glory on the social media and then fall off from the face of the internet.
We are in an age where separating keywords from the content or content from the keywords can be very harmful for your business. The new age mantra of Google and other search engines is "understanding the meaning" behind each query, or you can say "reading between the words" and delivering to you what you are exactly looking for. This has brought upon us the age of semantics driven content. With the advent of machine-learning, Google is now as close as a human in understanding the meaning behind your queries.
Googlebot crawls across your web pages and analyzes it for content coherency, uniqueness, value addition, and exclusivity.
And then…
And then, Google judges you
Google judges you based on the context coherency in your content. And accordingly it ranks you positively or negatively.
And then…
Google peeks into the reader/customer engagement signals that you send out based on user behavior.
And then…
Google tags you as an initiator or a follower; an expert or an imposter; a creator or a duplicator.
And this intelligence driven model has done a lot of good to the end users, which is the all of us – corporations, institutions and individual searchers alike. This model has in turn made us more intelligent and capable of taking more informed purchase or content consumption decisions.
The age of semantics driven content
So, for any of your digital content to get into the good books of Google, it has to be organized in a way that adds a lot of value to the readers. And Google demands you to be smart at it and put in some good research, efforts and time into the whole process of content creation.
In metaphorical terms, try to imagine content creation as a separate world altogether. A world that is constantly moving towards complexity just like ours. A world feeding on the constant novelty brought upon it by its inhabitants. A world that is made up of different countries and city-states, each city with its own glory and significance. One such significant country in the world of content creation is made up of keywords.
One of the earliest tricks that Google figured out, there was a time once when keywords used to rule over the world of content creation. However, with the new updates every year and by harnessing the power of machine intelligence, content creation is now a much more wholesome process; keywords still being an integral part of it.
Planning for keywords is generally one of the first things that a content writer or planner would start with. Keywords have the raw power to differentiate yourself from the competitor and increase the organic as well as paid circulation of your content.
Here is a list of the most important aspects you need to consider for perfect keyword integration within your content.
The stages of Keyword Integration
The process of keywords research begins with initially forming a cloud of important topics you want to cover. You can write down a few keywords for the broad categories you want to get ranked for. At this stage, you need not have accurate keywords. You can just focus on the broader keyword groups which you can use for base research.
For example, if I had to create a keyword cloud for writopedia.org, after 5 minutes of brainstorming, I could account for it as follows:
Once you have this list ready, you can move on to the next part wherein you can use various software/portals to identify exact keywords based on search trends available on tools like Google AdWords Keyword Planner. You can also try out the rank tracking and rank checking tools available. These tools can help you with keyword planning, keyword performance evaluation, geo-targeting integration with keywords, finding the most profitable keywords, evaluating competitors' keywords performance, etc.
Using keyword tools like the above ones is not enough however. Before you freeze the keywords, you also need to check out Search Analytics on Google Search Console (formerly Webmaster Tools). This will show you the list of keywords that your site is already ranked for. Based on that, you can move ahead with the overall strategizing and prioritizing of the keywords.
Keywords Usage
Using the keywords in a way that they perfectly blend with the content is as important as keywords research. Keyword placement works well only if they are seamlessly related to the services offered by your site.  For writopedia.org, Google would not mind if we use "content writing services" even a million times! However, we would be negatively ranked for any other unrelated keyword used more than a few times in a page. Keyword density is an important aspect to consider while writing the content. Using the same keyword again and again for more emphasis will get you negatively ranked. You should take care to not overdo it.
Keywords usage should also be meticulously planned out for different SEO aspects of the site, viz.
Keywords in Page Title
The title tags should be optimized for the best keywords. You can do this by identifying one focus keyword for each web page or blog article that you have planned. After the content itself, this is the second most powerful aspect for good rankings on search engine.
Keywords in Domain or Sub-domain names
Optimizing your domain name for the primary keyword that relates to your services/products is a very good strategy. In cases like writopedia.org, where it is not possible to have the primary keyword in the domain name, you can very well account for it by creating different sub-domains or optimized URLs like writopedia.org/content-writing-services.
Check out how Alchemy Translation, one of our clients, has opted for a domain name that in itself is nothing but the most significant keyword. Having keywords in the domain or sub-domain has much more importance than in other parts.
Keywords in URL Slug Line
Integrating keywords within the URL is a great idea not only for proper indexing but also for smooth navigation of the visitors. Check out how Alchemy Translation, one of our clients, has opted for a domain name that in itself is nothing but the most significant keyword.
Keywords in Meta Description
The Meta tags of your web-page inform the users what the page is all about. Google search result shows three things about the page results – Page Title, URL and Meta Description as illustrated in the example below.
As you can see above, putting the right keywords to attract visitors through search engine serves you well in terms of ranking. Meta tags are like the advertising copies for your website or web-page and hence the use of important keywords would increase the click-through rate to a great extent.
Keywords in Heading tags
Heading tags (defined as H1 to H6) basically form the outline of the content on your web page or blog article. The heading tags are placed in the content for categorization as headings (H1), sub-headings (H2), lower sub-heading (H3), so on and so forth. The heading tag that you see just above this paragraph is H3.
H1 is the primary heading and it is considered to be a rewarding practice to target keywords for the same. For optimum results, it is recommended to have the focus keyword in at least one of the primary headings. The secondary keywords could be placed in some of the sub-headings. Search engines pay special attention to the heading tags and the keywords included in it in order to understand how you have structured and organized all the information for the readers.
Keywords in Image alt attributes
Image alt attributes serve two purposes. They explain the image in the form of read-out text to the visually impaired visitors on their devices. And secondly, they are used by search engines to rank your images for image search results. If the main image of your article/web-page has the focus keyword in its alt text, it would improve its performance in terms of image search. However, you should definitely take care of keywords stuffing and not use keywords in all the images unnecessarily. Short, precise and relevant alt text would definitely work in your favor.
Keywords in Anchor texts
Anchor texts are basically backlinks or hyperlinks that guide the reader to another web page. Check out how Alchemy Translation, one of our clients, has opted for a domain name that in itself is nothing but the most significant keyword. Anchor texts help search engines rank the page for the most relevant keywords. Google has now been closely watching the text in the backlinks. So having perfect descriptions for internal anchor texts would absolutely help you get your pages ranked for certain specific keywords.
Keywords Stuffing
While it is important to understand and use keywords at multiple places in your text as suggested above, it is also utmost important to consider something called keywords stuffing. If the keywords do not go well with the sentence or the context or the overall content, keywords stuffing would definitely get you negatively ranked. You should also consider working on the keywords density for the beginning by using different tools available online.
Apart from the above mentioned aspects related to keywords, here are some more additional considerations for you while you aim for perfect keyword integration in your content.
Intelligence driven research methods for keywords
While the keyword research is available to you as well as your competitors equally, the primary difference comes through the usage of the keywords. And secondly, you can also differentiate yourself by the research methods that you use for keywords planning.
You can use forecasting tools for estimating the organic search volume using the keywords that you have shortlisted. You can also use different tools like Google Search Console as mentioned earlier and Google AutoComplete Suggest which is a very efficient way to understand what people majorly search for. Try out different combinations of texts on Google Suggest. Try asking 'why' and 'how' questions relevant to your focus keyword.
You can also use Check out how Alchemy Translation, one of our clients, has opted for a domain name that in itself is nothing but the most significant keyword. in Google Analytics to get more targeted hits. For example, for an informative blog article, filters like 'how', 'why', 'where', and 'when' could work really well. And for a purchase oriented web page, using action words like 'buy', 'purchase', 'shop', etc. in the include filter would work well.
One of the most under-utilized tools for keywords research is Google Search itself. By searching for the terms of keywords you want to get ranked for, you can analyze why and how the websites appearing there are ranked on the first page. You can also analyze if your competitors are present there and accordingly come up with strategies for better keyword research and performance.
Spy on your competitors
Your content and keywords would be the primary vessels through which you will be able to move ahead of the competition and create a difference. There are various tools available in which you can check the keywords that your competitors are bidding on. While using the keyword planner tool of Google, you can put your competitor's URL as the landing page and check the keyword suggestions. You can also go for an all-round performance analysis of your competitor's site using various tools like the below mentioned ones.
You can use Google Alerts to monitor the keyword mentions of your competitors. You get a report every time your competitor is mentioned online.
SEMRush is a mind-blowing tool for competitor keyword analysis. It brings back to you results of your competitor's organic keywords, rank, ad keywords, traffic data, etc.
SpyFu is an excellent tool that exposes the content strategy of your competitor. By just entering the name of your competitor, you can download the complete list of keywords that they've used!
With Alexa, you can figure out the keywords of your competitors and the traffic that they generated with these keywords.
Keyword Competition Analysis
If you actually take out enough time to research on keyword analysis of your competitors, you will undoubtedly identify keywords that haven't yet been targeted.
Keywords competition analysis is a tricky job only until you have it figured out. To analyze specific keywords for their competition level, you can try and use various tools like kwfinder or kwfinder.
Here is a quick guide on how Term Explorer works:
Step #1: Start a Bulk Keyword Tool Job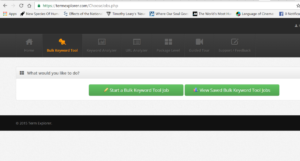 Step #2: Enter the seed keyword and set the results size.
You will see various results that will show PPC competition as well as average monthly searches.
Step #3: Select the keywords you want to shortlist and analyze.
Step #4: Send the selected keywords to keywords analyser.
The tool will now show you the difficulty level. You can go ahead with your final list of keywords based on the same. Keywords with difficulty level under 3.5 are ranked as easy in this tool.
Here's how KWFinder works.
Similarly, KWFinder is another great tool that shows accurate results for search volume in terms of absolute figures and difficulty level in a range of 1-100, the green ones being easy. This tool also shows search engine result pages (SERPs) as an additional data which you can further use for analyzing how your competitors are ranked.
You can apply multiple filters in both these tools for more accurate results.
Account for Long Tail Keywords
Long tail keywords are much more specific and hence have a much higher rate of conversion. It is also much easier to get ranked for long tail keywords rather than the normal keywords. Ecommerce industries are dominated with long tail keywords like "Buy men's shoes online in India" and Amazon claims to make 57% of its sales through long tail keywords apparently.
There are various online tools that you can use to generate long tail keywords. Here are two really interesting tools, Keywords Shitter and UberSuggest.

Use Latent Semantic Indexing (LSI) Keywords
LSI keywords are basically keywords that are similar in meaning to your primary keyword. These keywords are a smart choice in order to restrain from keyword stuffing. Instead of using the same keyword over and over again, LSI keywords can help you get indexed for all similar meaning keywords. However, Google understands synonyms very well now. So you might just want to take keyword stuffing into consideration while trying your hands at LSI keywords. There are various tools available online that you can use to generate LSI keywords as well.
Focus on Keyword targeting
If you opt for these advanced filters for location and language in Google AdWords Keyword Planner or any other tool that you use, you would be surprised at the accuracy with which your search results lead you to your target audience. Keyword targeting is an important part of Keyword research. Without proper targeting, you might end up attracting irrelevant traffic or no traffic at all.
Suppose you are looking for a French speaker in Mumbai, you can use the language and location filters accordingly for better targeting. Geo-targeting is really efficient for search engines as people tend to type queries like "French tutors in Mumbai" or "Who will deliver chocolate truffle cake at 2 am in Ahmedabad?"
Go for long-form articles
For articles as long as this, of more than 3000 words, there is a great chance of keywords naturally falling into place. Even before you know, your web page or article will start getting ranked for several keywords and long tail keywords that you probably did not even target. In fact, long tail keywords work best if accompanied with long form articles.
The digital marketer, Neil Patel, writes only 4000+ words articles on his blog and claims to have crossed 100,000 visitors/month primarily through long form articles. Longer content, however, is not about repetition or fluffing it with irrelevant words. It is all about adding more value.
As per this recent study by serpIQ on the importance of content length, the average content that the top ranked page has on Google is about 2500 words. This just means Google favors long form articles that have a lot of quality content.
The Bottomline and the Take-Away
Ultimately it is all about capturing the intent and the interest of the readers while being informative, organized and relevant in your approach for keywords. And there's a lot to learn – the country of keywords, just like the world of content creation, is constantly evolving. And being an initiator in your industry in terms of keywords and content planning would definitely reap you great rewards compared to the followers. So the trick is to keep up with the evolution or still better, lead the evolution to new levels all the time. Primarily it is us and our online behavior that is guiding Google and the other tools in this constantly evolving process of keywords integration in content.
We at Writopedia, believe in testing and experimenting instead of just listening to a digital marketing guru and blindly following the best practices. Because if you see, the best practices are constantly evolving too.
The best person to do the keyword research is always the writer who is actually compiling the post. The writer needs to be completely aware about the mission of your online presence and the purpose behind the articles that you wish to promote.
Perfect keyword integration is the writer's means to ensure that the hard work he pours in for writing the post actually materializes into something fruitful and helps in terms of traffic and organic leads.
At Writopedia, we follow a multi-step approach to ensure each article has its share of focus on keywords. Apart from using various specific tools, our writers are also equipped with internally created spreadsheets for data analysis driven prioritizing of keywords. The writers working on your content strategy are also taught to use reverse psychology for understanding the purpose with which readers would end up on your page and align the same with your purpose of reaching out to them. Lastly, our work does not stop at planning and using the keywords in the content. We also consider analyzing the performance of the keywords as an integral part of overall keyword integration on your site. We conduct time tests to check the performance of the keywords used through various tools like Google Analytics and Google Search Console. Integrating keywords along with various other considerations for SEO optimized content differentiates Writopedia from all the other content creators. A team of professional writers and trained SEO personnel weave some virtual magic for you through the content we create.
We hope you got to take away some good insights on keywords through this article. If you also have worked your way out with keywords, please share your experience in the comments section.