Columnist Day Special: Interview with Jay Vasavada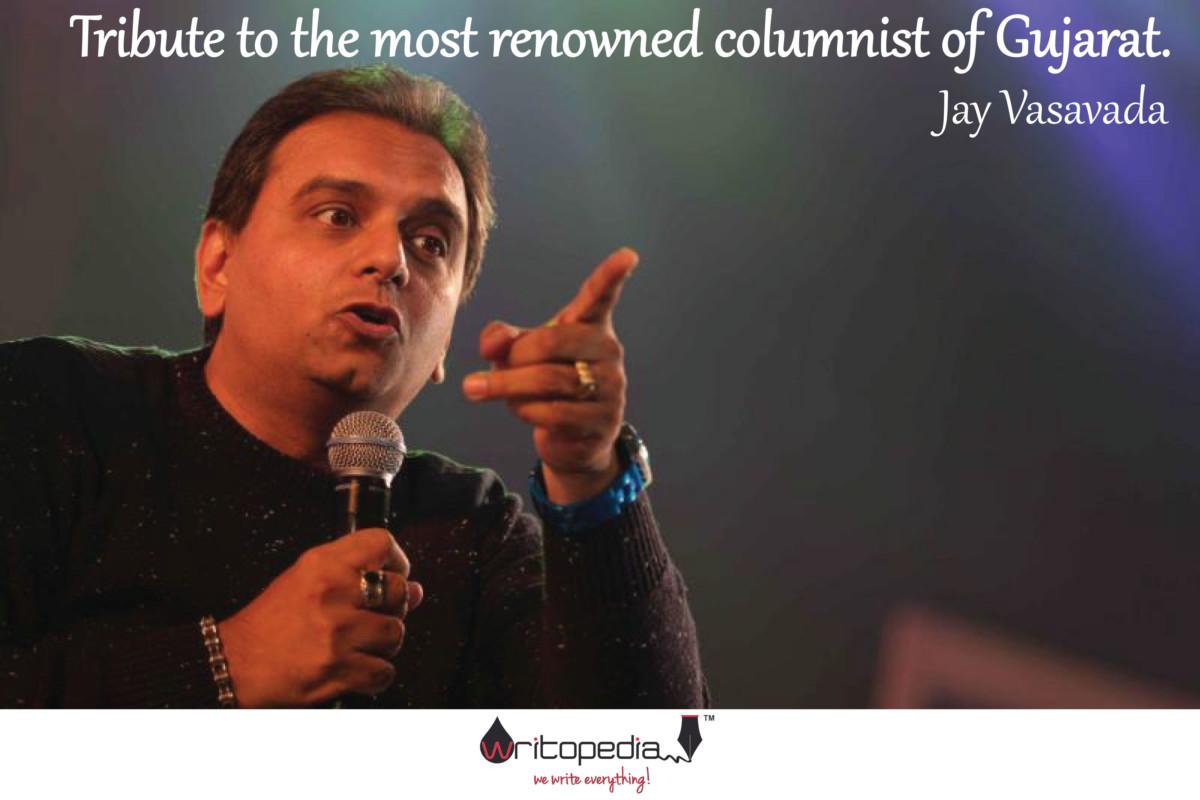 The Achievements
Jay Vasavada is one of the most popular young authors in Gujar
ati print media today. His versatile experience as a special correspondent for "Gujarat Samachar" has seen him churn out literary pieces on a wide range of eclectic topics. What's more commendable is that he has been doing so on a daily basis for the last 20 years. Writing for a medium that has a readership of over 7 million per year on a regional level has helped him garner a followin
g of more than a million people on Facebook. He nurtures his passion for writing through his own blog as well, PlanetJV, which has gained the reputation of being one of the top Gujarati blogs on the Internet. He has more than 1600 articles published on several mediums and platforms. Some of his literary works from amongst the 15 books to his name include "Jay Ho", "JSK", "Mummy-Pappa" and "Preet Kiye Sukh Hoy". He has earned the reputation of a regional author whose literary works have all crossed the 10,000 copies landmark.
The Journey
After leaving his job as a college principal in 2002, he proceeded to deliver more than 1500 public speeches on various topics in destinations across the globe. He has also anchored and scripted TV talk shows and radio shows. His travelogues are also renowned amongst viewers within India and abroad. Jay was home-schooled throughout the period of his primary education, due to which he developed quite a different outlook towards the world as compared to others, something that helped him tremendously in his writing. He has been honored as a guest speaker at events like PM Narendra Modi's book launch and at the Asmitaparv of Pujya Moraribapu. He nurtures his passion for reading through his personal collection of more than 18,000 books and magazines.
The Revelation
We at Writopedia caught up with him to celebrate Columnist Day. Of course, we did not leave any stone unturned at extracting as much insight from him as possible; it's not often that you get to interact with someone who has 21 years of experience in column writing.
While we nurture a community of writers at Writopedia, we all keep asking each other this one question. It would be interesting to ask it to you as well. What does writing mean to you?
Writing is a way of expression. Language as a tool came too late in the minds of mankind. Homo sapiens were here since thousands of years, but earlier they expressed themselves through art, music, paintings, sounds, visuals, not language. Language came much later, firstly being restricted to just phonetics. Sharing is a necessity for humans and to share ideas between generations of people, a form of expression such as writing is needed.  If I write an article, it will survive for thousands of years to come. To preserve ones thoughts, writing is required. Writing is kind of like a time capsule. However, as a craft, writing requires discipline.
Is there anything you find particularly challenging in your writing?
When I understand a concept, for example, some kind of philosophy or a piece of modern art or   poetry, it connects to you on the basis of sensibility and experience. But, the hard part is to establish a connection with the readers. Narration shouldn't make the writing feel inanimate; readers shouldn't feel that the writer is writing a diary instead of writing to them. You know, the tough part is to explain intricate things to laymen, specially in field of art and philosophy
Nowadays, when digital content is in so much demand, whatadvice would you offer to the youth considering writing as a career? 
It is lucrative, but you should choose to write in English. I started to write in regional languages like Gujarati and there are so many writers like me who write in other languages as well. Regional languages like Tamil, Marathi, Bengali see a good clout over audiences, but in one's regional language, it becomes difficult to have a quick progression. You can express in your language, but doing so in English is a completely different experience altogether. It is difficult, but not impossible. Take my example; traveling across the globe, giving lectures in English; doesn't seem a lot but it took me a long time of 20 years to reach this stage. My tip is to start writing in global languages for better prospects and to garner a broad audience. Another tip is to write for the masses and the classes. Always remember, there is difference between personal creativity and professional creativity.
Do you remember the first column that you ever wrote? 
During my time in school, I won plenty of writing competitions. My teacher sent me to the newspaper office once. When I went there and talked to the editor, he got confused about the fact that I had won so many competitions. He felt something fishy was going on. He challenged me to write on a topic that he gave at that moment. I took up the challenge to write instantly and spontaneously. He asked me to write something on Nehru, I wrote and submitted it before leaving the office. A few days later, the article was published in the newspaper. So, talent and luck is the reason I started off writing on a professional basis. Since then I've been writing articles for over 20 years now.
What would you consider to be your best accomplishment in writing?
When someone calls me up and says that because of my article or publication he took the decision of marriage, or that someone sad or in depression harbored suicidal thoughts, but recovers after reading my writing. I find my biggest achievements are when I am involved in shaping or saving peoples' lives in one way or the other. That's the best thing a writer can do. Awards are merely for the time being, nothing else. Someone receives a Nobel Prize and for a day, he would be on cloud nine. The money would be spent on a house and other commodities, but the award or medal would lie in the showcase. After a few days, things get normal, people congratulate you, you throw a party and feel happy; then what? The most satisfactory thing would be to know that I'm touching people's lives and shaping someone's destiny.  It is a long lasting impact, something that awards won't give you after a few days or months. This is the most rewarding experience any writer can have.
And for our readers, can you share with us the best way to reach out to you to learn more about your books and writing in general?
You can follow me on my Facebook account. I'm easily available on the platform. You can also follow me through my blog: www.planetjv.wordpress.com.
—